According to scientists from the European Union, 2022 was the second-warmest year on record for Europe as a result of record-breaking weather extremes brought on by climate change that reduced food yields, dried out rivers, and resulted in thousands of fatalities.
By a narrow margin, according to the EU's Copernicus Climate Change Service (C3S), 2022 was likewise the fifth-warmest year on record. Other, longer datasets suggest 2022 was the fifth-warmest year on record since at least 1850, though C3S records go back to 1950.
The last eight years have been the eight hottest on record, according to C3S.
Copernicus Climate Change Service findings on second-warmest year
Climate change brought on by humans has made the earth 1.2C warmer than it was before the Industrial Revolution, according to C3S. According to Copernicus, temperatures in Europe have climbed over the past three decades by a factor of more than double the global average.
C3S deputy director Samantha Burgess urged for immediate action to reduce CO2 emissions and prepare for the changing climate, noting that we are already suffering the disastrous effects of our warming globe.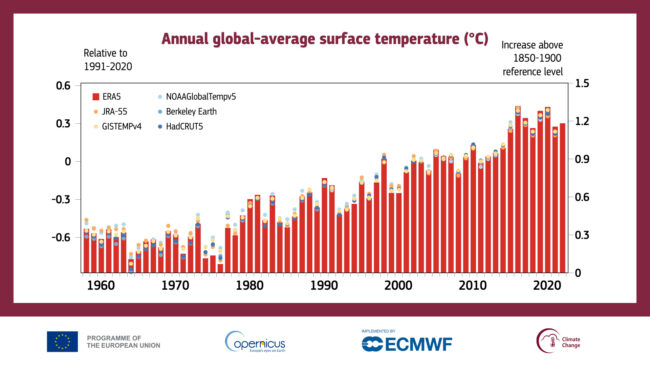 The last summer was unforgettable
The last summer was the warmest on record for Europe in a second-warmest year, breaking previous marks for temperature in nations like Italy, Spain, and Croatia. Severe heatwaves in nations, including France, Germany, Spain, and Britain took more than 20,000 "extra" deaths.
The heat and lack of rain combined to cause a widespread drought that preliminary research deemed to be the worst in 500 years in Europe. Low water levels on the Rhine in Germany slowed shipping, and a lack of precipitation had an adverse effect on hydropower production and maize and soybean crop output.
More emissions were released across the EU and Britain over this summer than any other summer in the previous 15 years due to the hot, dry period that fueled severe wildfires in nations from Slovenia to Spain.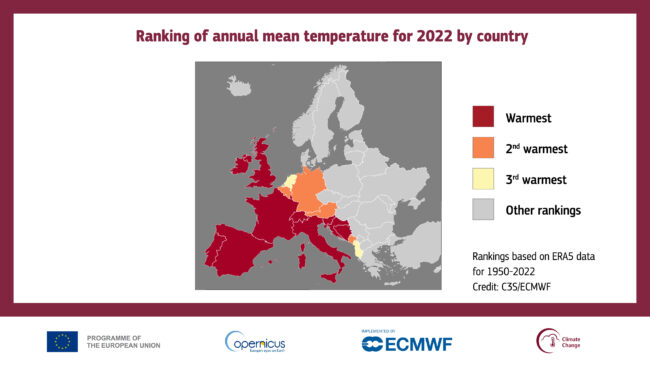 Net-zero emissions or zero life
Only if nations cut their emissions to "net zero," or emit no more greenhouse gases into the atmosphere than they remove, will global temperatures cease increasing.
The 27-nation EU, the United Kingdom, Canada, Japan, and other nations have vowed to accomplish that target by the year 2050, with China and India intending to do so later. This second-warmest year must not repeat itself.
Even with those long-term commitments, global emissions are still increasing. According to C3S, the average atmospheric carbon dioxide concentration in 2022 was around 417 ppm, the highest level in more than 2 million years.
As global warming continued to disproportionately affect the world's poor and vulnerable inhabitants, other regions of the world saw a year of climatic catastrophe. At least 1,700 people died by flooding in Pakistan and drought-ravaged Somalia's cattle numbers.