Renewable energy sources accounted for 22% of total final energy consumption in the EU in 2020. This is 2 percentage points (pp) more than the 2020 aim set forth in Directive 2009/28/EC on the promotion of the use of renewable energy sources. This is a significant achievement and a turning point in the EU's efforts to attain carbon neutrality by 2050, according to Eurostat.
This information is based on Eurostat data on renewable energy released today. The article summarizes a few of the conclusions from a Statistics Explained article.
The European Green Deal (COM(2019) 640 final), an extremely ambitious package of initiatives aimed at enabling European residents and companies to assist the sustainable green transformation, aims to make Europe the world's first net-zero carbon continent by 2050.
Renewable energy provides a number of potential advantages, including lower greenhouse gas emissions, increased energy supply diversification, and less reliance on fossil fuel markets (in particular, oil and gas). The expansion of renewable energy sources has the potential to boost employment in the EU by creating jobs in new "green" technology.
This article presents recent data on the proportion of energy derived from renewable sources in the European Union's three major consumption sectors (electricity, heating and cooling, and transportation) (EU).
Wind power, solar power (thermal, concentrated, as well as photovoltaic), hydropower, tidal energy, geothermal energy, atmospheric heat absorbed by heat pumps, biofuels, and the renewable fraction of waste are all examples of renewable energy sources.
The Directive also establishes national objectives for 2020, which were determined by taking into consideration each country's starting point and total renewable energy potential. When it came to national objectives for 2020, 26 Member States fulfilled or surpassed them. To reach their objectives, certain nations required to complete statistical transfers by 2020 (see the 'for more information' section). Sweden, Croatia (+11 percentage points), and Bulgaria (+7 percentage points) were the Member States that notably exceeded their 2020 objectives. France, on the other hand, fell short of its goal (-3.9 pp).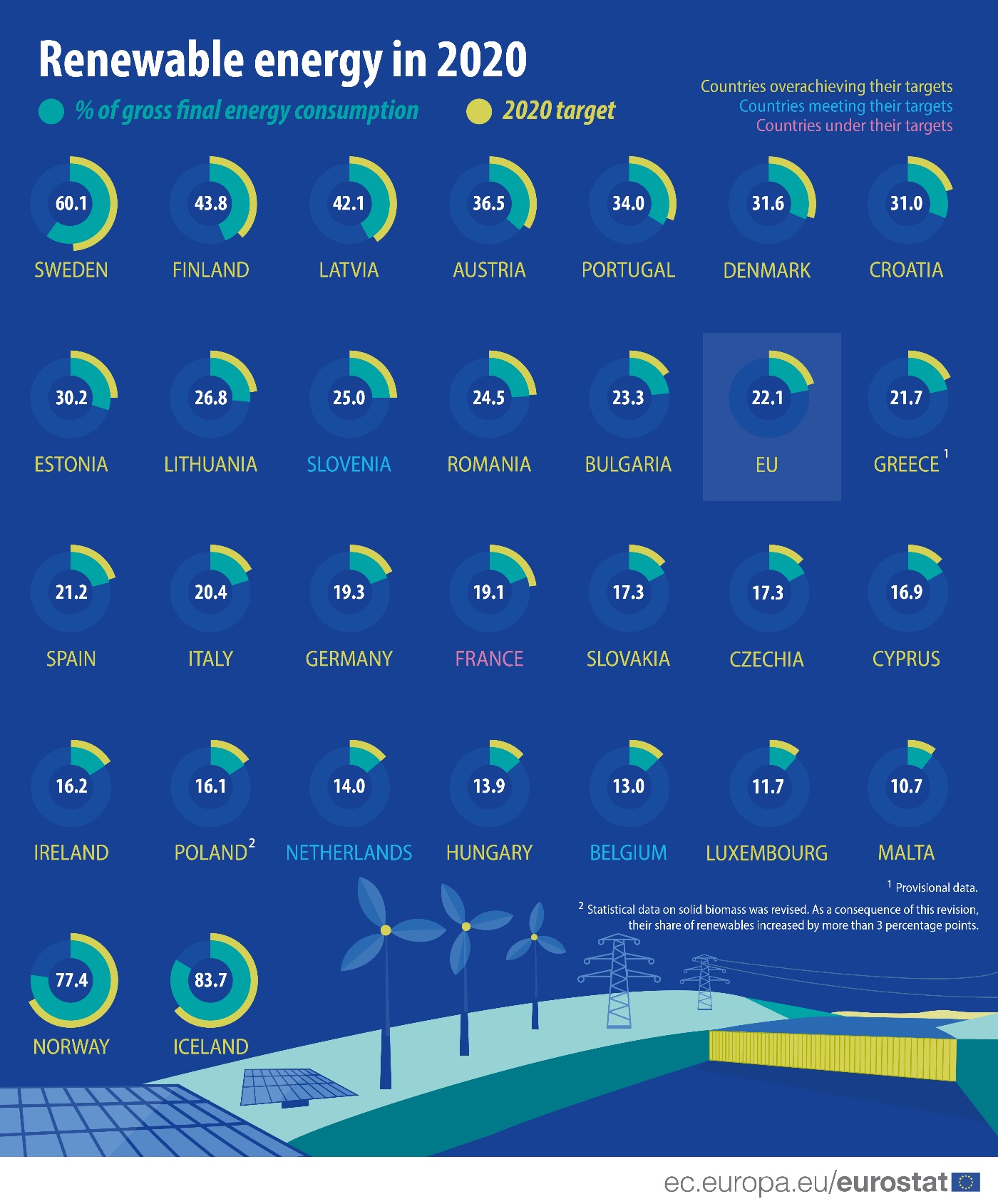 Sweden (60%) appeared to have the greatest percentage of renewable energy source consumption among EU Member States in 2020, ahead of Finland (44%), and Latvia (42%).
At the other end of the spectrum, Malta (11%) has the poorest share of renewable energy sources, followed by Luxembourg (12%) and Belgium (13%).