The well-known oil company Shell appointed Wael Sawan as a new chief executive today. He will take this position from Ben van Beurden who is stepping down in December after 40 years in Shell Company. By choosing Sawan for this post, the largest fuel retailer and liquefied natural gas (LNG) trader seem to make a soft transition to renewables.
Van Beurden took the first steps toward cutting greenhouse emissions. But his actions were mainly urged by protests of the climate activists against Shell Company. 
In such circumstances, during van Beurden's term, Shell lost a case before a Dutch court. The court ordered Shell to speed up cutting the emissions.
Campaigners launched and won the case in the first instance. The company appealed the court order in March this year. This court order is considered a landmark win for activists turning to courts to force climate action.
Low-carbon fuel is not enough
During van Beurden's tenure, Shell's strategy focused on providing low-carbon fuel and power to their customers. Still, the current spending is mainly oriented toward oil and gas.
Considering Sawan's biography, his succession to the highest position in the company is seen as Shell's attempt to expand and maybe switch their business from fossil fuels to green energy sources. 
The oil giant has a goal to comply with a lower-carbon future regulative. They intend to reduce emissions to zero by 2050. 
But the Greenpeace activists say that Sawan "must state that Shell will massively shift capital expenditure to renewable energy in the short term."
While activists hope to see a radical turnover under the former renewables boss, economists are more realistic. They say it is too early to celebrate due to a continuation of Shell's policy being more likely than a revolution.
The current energy crisis and the probability that it will take time to overcome the consequences suggest that the full transition to renewables will wait. Fossil fue
ls in Europe will stay longer than predicted before the war in Ukraine.
Who is Wael Sawan?
Wael Sawan, 48, comes at Ben van Beurden's place from the position of head of Shell's integrated gas and renewables division. He held this post since November 2021. As van Beurden's successor, he inherits the ambitious green targets. Shell Chair Andrew Mackenzie believes he can fulfill this.
"Wael Sawan is an exceptional leader, with all the qualities needed to drive Shell safely and profitably through its next phase of transition and growth," Mackenzie said on Sawan's appointment.
Sawan is a Canadian citizen who has Lebanese origin. He was born in Beirut and raised in Dubai. He is an alumnus of Harvard Business School and graduated with a Master's degree in chemical engineering from McGill University in Canada.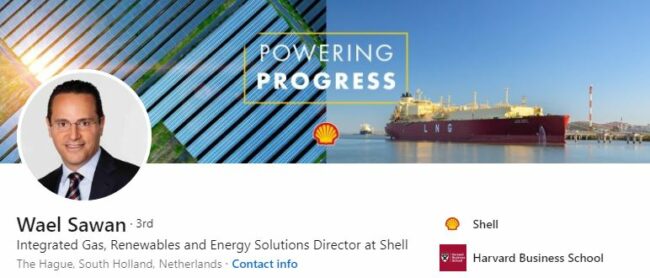 According to his bio on LinkedIn, he joined Shell in 1997. Ten years later he becomes General Manager in retail, new market entries, and alliances. During a 25-year career spanning, he held positions with Shell's deepwater and Qatar Petroleum joint operations. Also, he had stints in Europe, Africa, Asia, and the Americas.