A new electric city car created for urban use is Microlino. It is the best way to travel in cities because it has room for two people, a range of up to 230 km, and a front door that lets you cross-park it.
This isn't a vehicle. Microlino is the future of urban mobility. This tiny car is exceptionally well-designed. It is space-saving and ecologically friendly. The intention is mass usage in major cities throughout the globe. The newest eye-catcher is a compact, fashionable, and electric automobile.
This is what that time prospect producers said on their Facebook age. It was in 2018. Today Microlino is produced in a factory in Turin.
Microlino has the last laugh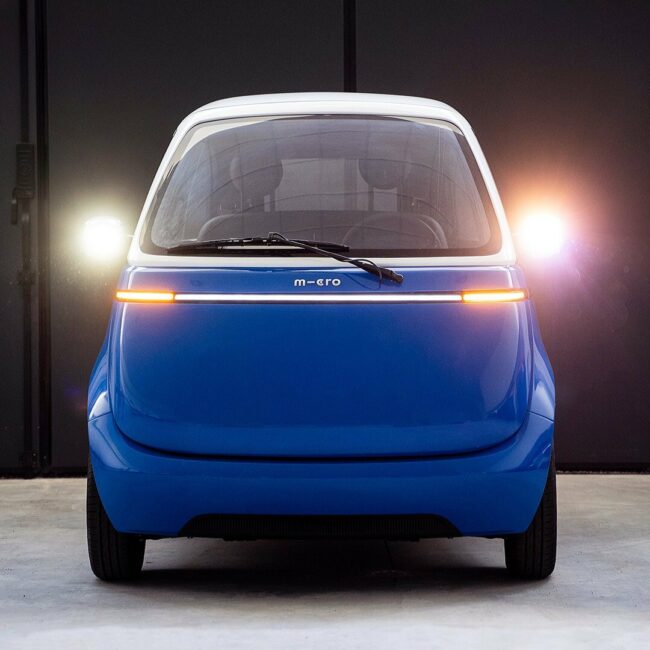 The world saw the prototype of Microlino at Geneva International Motor Show in 2016. Back then, it seemed it will be just another microcar (typically electric) that is never going past the development stage. The BMW-Isetta-inspired Microlino EV from the Micro Mobility Company was likely categorized as such by many analysts. But the retro-style runabout is currently having the last laugh.
By bringing a 1950s motoring classic with an electronic twist back to life, the two Swiss brothers hope to reestablish their nation as a global leader in the automobile industry.
Fair enough, it's basically a quadricycle, not a car. But it has now undergone a whole redesign. The Isetta bubble car from BMW served as the inspiration for Oliver and Merlin Ouboter's new microcar, which now has four wheels instead of just three.
The prototype has been the subject of a lawsuit over a nearly identical, also-Isetta-inspired competition, and, just as it was about to go into production, supply-chain problems reared their ugly heads.
The corporation is eyeing Germany and Italy as its next two markets after Switzerland, with the rest of the EU on the horizon for 2023.
Microlino is a good enough city transportation
With a 12.5 kilowatt electric engine in place of the previous petrol engine, the new Microlino has a range of up to 230 km and a top speed of 90 km/h.
According to Oliver Ouboter, chief operating officer at Microlino AG, the vehicle's low environmental impact (496 kilograms) and compact dimensions (2.5 meters long) make it easier to park in confined locations.
The goal was to develop a substitute for traditional automobiles. According to Ouboter, Microlino accomplishes that task far better than bicycles. It is weather protected, has room for cargo, and allows the sitting of two people side by side.
His brother Merlin stated that because it is smaller than a typical car, it uses less material and less electricity in its production. Therefore, the environmental impact is around a third of that of a traditional electric automobile.
The Microlino manufacturing is in Italy and costs around 15,000 Swiss francs ($16,195). It already has more than 35,000 bookings.
FYI if you are under 50 years old
We all know Switzerland for its banking, watches, and chocolate. But it had an automobile industry in the early 20th century, with long-forgotten names including Ajax, Fischer, and Turicum.
Despite the fact that Switzerland is home to certain specialized manufacturers, high production costs and a small domestic market killed many.
Switzerland is a place where the development of ideas is possible; marketing is good, but mass production happens elsewhere. At the Swiss Transport Museum in Lucerne, Daniel Geissmann cited Microlino as the most recent illustration of that.
Such an automobile would find a market, he said adding that the "car" is both startling and enjoyable.
EU will embrace mini-EV
While the bubble vehicle's classification as a quadricycle rather than a car in the EU will allow for more lenient licensing, its top speed of 56 mph will also keep it off the highways. The Microlino 2.0, which has a starting price of about $14,000, could be a well-liked substitute for other low-range EVs, electric scooters, and some true electric automobiles with comparable ranges.
For instance, the longest-range trim level, with a range of 230 km, could surpass the range of some larger EVs, such as the Mini Cooper SE and the Mazda MX-30, while costing much less to buy and use for in-town driving and requiring much less parking space than even a relatively small vehicle, such as a Volkswagen ID.3. These range estimates are currently unofficial, but given its low power needs, a compact and light car can surpass larger EVs in range even with a smaller battery.