Solinc company started its life in Naivasha, Kenya. It was East Africa's only PV panel producer in 2011. The distribution of solar panels to retail markets was Solinc's area of expertise at the time. As the company has grown over the years, Solinc now deals with large solar installations and the wholesale supply of panels in Uganda, Tanzania, Rwanda, Burundi, the Democratic Republic of the Congo, and other African nations.
As many power companies in Africa do, Solinc relies on the available resources, that is wind or sun, or both. Solinc's field is solar power.
Solinc has sold more than 69 million watts to more than 3,000 clients since 2011. Their ambition is the growth of these figures while also reducing the company's carbon footprint.
They have a high-quality choice of devices they offer. This is due to Solinc's collaboration with renowned Huawei and Tier 1 solar manufacturers. So, both – the company and the customers – can be sure that the products on their list are of the greatest caliber.
Profiting from years of experience in the solar industry, Solinc is the only business in the area with the equipment to verify the caliber of solar cells and guarantee panel outputs, protecting the customer's investment from low-quality items being sold on the market.
It's not easy to establish sustaining local renewable energy tech in Africa
Component production in the renewable energy (RE) sector, specifically of solar PV and wind turbine components, has been localized across various countries in Africa as part of the increasing diffusion of these RE technologies over the past decade.
Local factories have been established despite ever cheaper world market prices for RE technologies, which would appear to favor importing components from abroad over local production.
There is research that emphasizes this apparent paradox by analyzing the conditions enabling the development of local RE component production facilities in Africa. It includes multiple case-study approaches focusing on the histories of two solar PV module assembly plants in Kenya and Senegal.
One of them is the Solinc.
The research showed that the solar PV factory Solinc established in Kenya managed to maintain its production, unlike the one in Senegal.
What's the secret to the success of Solinc?
A Chinese company considered forming a joint venture to manufacture amorphous solar PV modules in Nairobi in at least one prior attempt to develop the local manufacture of solar PV modules in Kenya.
The establishment of Ubbink East Africa Ltd., which was formally registered in 2010 and started constructing polycrystalline modules in Naivasha, Kenya, in August 2011, represents the sole known successful attempt.
The construction of this assembly facility was the end result of a procedure that began in the parent firm, Chloride Exide, with headquarters in Kenya, circa 1999. A joint venture between the Kenyan firm Associated Battery Manufacturers Ltd. and the Dutch company Ubbink B.V. resulted in the creation of Ubbink East Africa Ltd. (ABM). Afterward, in 2015, ABM bought the bulk of Ubbink East Africa Ltd.'s shares; the company was later renamed Solinc EA Ltd. The business was now known as "Solinc."
Chloride Exide later merged with the bigger ABM Group. The Private Sector Investment (PSI) initiative, run by the Netherlands Enterprise Agency, provided the funds necessary for Ubbink East Africa Ltd. to launch. Six additional workers received training after returning to Kenya from a month of training in the Netherlands with the initial three technicians.
As a result of this ongoing procedure, it appears that 78 Kenyans have now received training to run the machinery in the assembly factory.
Solinc has grown to become the market leader in solar panel distribution
Since its founding, Solinc has developed into a market leader in Kenya for the distribution and delivery of solar panels, and it is currently working to expand into the neighboring countries of Tanzania and Uganda.
The major market Solinc services are in western Kenya, which is the country's largest market. The company now has an annual manufacturing capacity of 8.4 MW and produces approximately 140,000 solar panels.
The firm assembles the solar modules using imported solar cells and ancillary components, like glass materials. Depending on the final consumer market, the assembled solar modules come in a variety of sizes.
What's Solinc's offer?
The modules for the off-grid market categorization are in two groups. The first is 20Wp to 150Wp, which can be directly connected to a 12V battery system. The second is 160Wp to 200Wp, which can supply enough voltage to directly charge a 24V battery system.
Solinc and the German business Fosera partnered in 2014 to produce and market solar home system products in East Africa.
The company has gradually expanded into providing solar panels for large-scale solar power projects with capacities ranging from 20kW to over 500kW, primarily for industrial clients and flower farms. Solinc offers modules in sizes ranging from 250Wp to 300Wp for use in such applications. Typically, so-called engineering, procurement, and construction (EPC) firms create these projects. They provide the projects completely.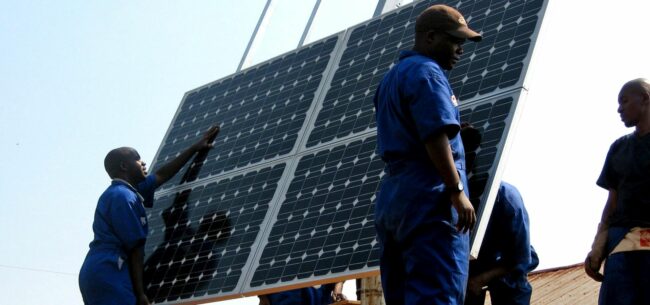 Solinc offers the best quality for lower prices
It seems that these EPC contractors would instead purchase the panels locally from Solinc than import them from another country. This is a result of the time-consuming and expensive approval processes at customs entry points regarding the import exemptions that control imported solar system equipment into Kenya.
Being a part of a larger organization group has been very advantageous for Solinc. This has made it possible for the business to make use of the vast distribution network, encompassing a total of twelve nations of the battery provider Chloride Exide.
In fact, the ABM Group has become a vertically integrated organization by adding solar panels to its product lineup, controlling solar modules, solar batteries, and other balance of system components.
As a result, Solinc is a part of a business that can handle all facets of sector activity, including project creation, systems integration, customer service, and product distribution. Due to the opportunity to offer a range of complementary products, the ABM Group is able to retain the majority of the value in the solar PV chain.
Solinc is now a part of a company organization that has been around since the 1960s, which gives it access to a wealth of knowledge about the economic environment in East Africa.
Small-scale (PICO) appliances and solar household systems make up most of Solinc's overall sales. They aim at the off-grid sector. They distribute goods to important off-grid solar vendors including Mobisol and M-KOPA. Due to the major reliance of these off-grid suppliers on donor money, Solinc has indirectly benefited from these funds in the growth of this market segment.
What does Solinc do?
Solinc offers renewable energy solutions with high reliability and resistance to harsh environments as Africa has. They offer high power with a module efficiency of up to 21.3%, thus high customer value and return on investment. On their list are high energy yield and unique designs for optimized energy production, and electroluminescence tested to ensure micro-crack-free panels.
The crew Solinc employs and works on the ground will continue to provide service with the maintenance of their products whenever needed.
In sense of grid-tie solar systems Solinc offer, they provide off-grid solar systems, heat pumps and exchanges, and solar panel testing and installation maintenance.
Solinc, a firm with years of experience in solar production, say they are the only one on the continent with equipment that can test the caliber of solar cells and guarantee panel outputs.
It's not easy to invest in Africa, but it's good to know there is a firm that can guarantee they do not sell subpar products.